Mission Statement
HighEdWeb educates digital professionals who work at higher education institutions. We provide educational materials and opportunities that develop knowledge, skills and abilities. As a result, we advance higher education.
Message from the Board
We're thrilled to celebrate 20 years of the Higher Education Web Professionals Association and our work toward advancing higher education. We've grown a great deal over the years and saw much of this growth in the 2017–2018 year.
In 2018 we hired our first employee, Sara Clark, a veteran HighEdWeb volunteer who now serves as our operations director. Through Sara's work, the organization is able to progress more quickly toward our goals. Last year's annual conference, held in Sacramento, broke records with sponsorship involvement and engagement with vendors. We also launched a new membership model, which includes institutional memberships.
As our membership continues to grow, so do our efforts to offer more benefits to our members.
We're focused on providing educational opportunities to HighEdWeb members through membership portal offerings. Not all members can make it to the annual conference, and we don't want that to limit professional development. We're a tech-focused organization after all, and we look forward to using our skills to support our members with more digital learning. Last year for example, we launched a member Slack space to help you connect with other digital and web professionals around the globe.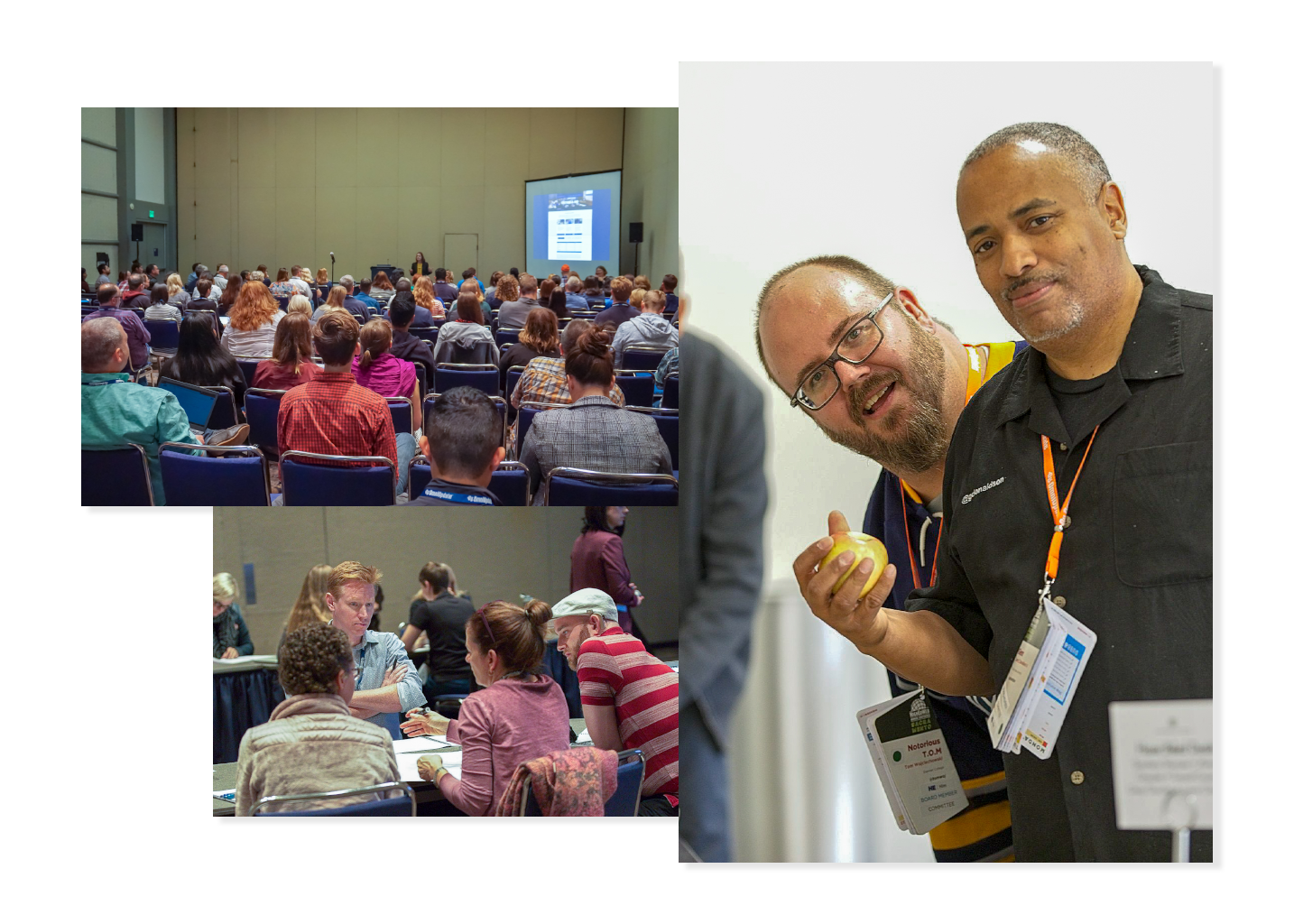 HighEdWeb continues to have a mutually beneficial partnership with WPCampus and looks forward to developing more partnerships in the future. Our Link Journal continues to grow and share helpful content with higher ed professionals. Recently, Link published previews of the revised tracks for the annual conference.
Transparency of how the organization operates has been a major focus of our work. It's important to us that our members understand what happens within the organization, and how the Board of Directors and committees work. Part of this effort has been a focus on volunteer recruitment and formalizing paths for members get involved with HighEdWeb. Increased diversification at all levels of our organization has also been a significant focus for us.
HighEdWeb is comprised of members who care deeply about higher education and educating our future generations.
As an organization, we strongly believe in that focus and work hard to make resources available to our members so you can thrive in your work environments.
As we look ahead to the next 20 years of HighEdWeb, we are confident we will continue to empower higher education professionals and positively contribute to our industry. Members like you are what makes our organization so great.
Thank you.
Tom Wojciechowski
President, HighEdWeb Board of Directors
Membership Statistics
As of December 31, 2018, HighEdWeb had 1800 members:
These members represented 605 higher education institutions.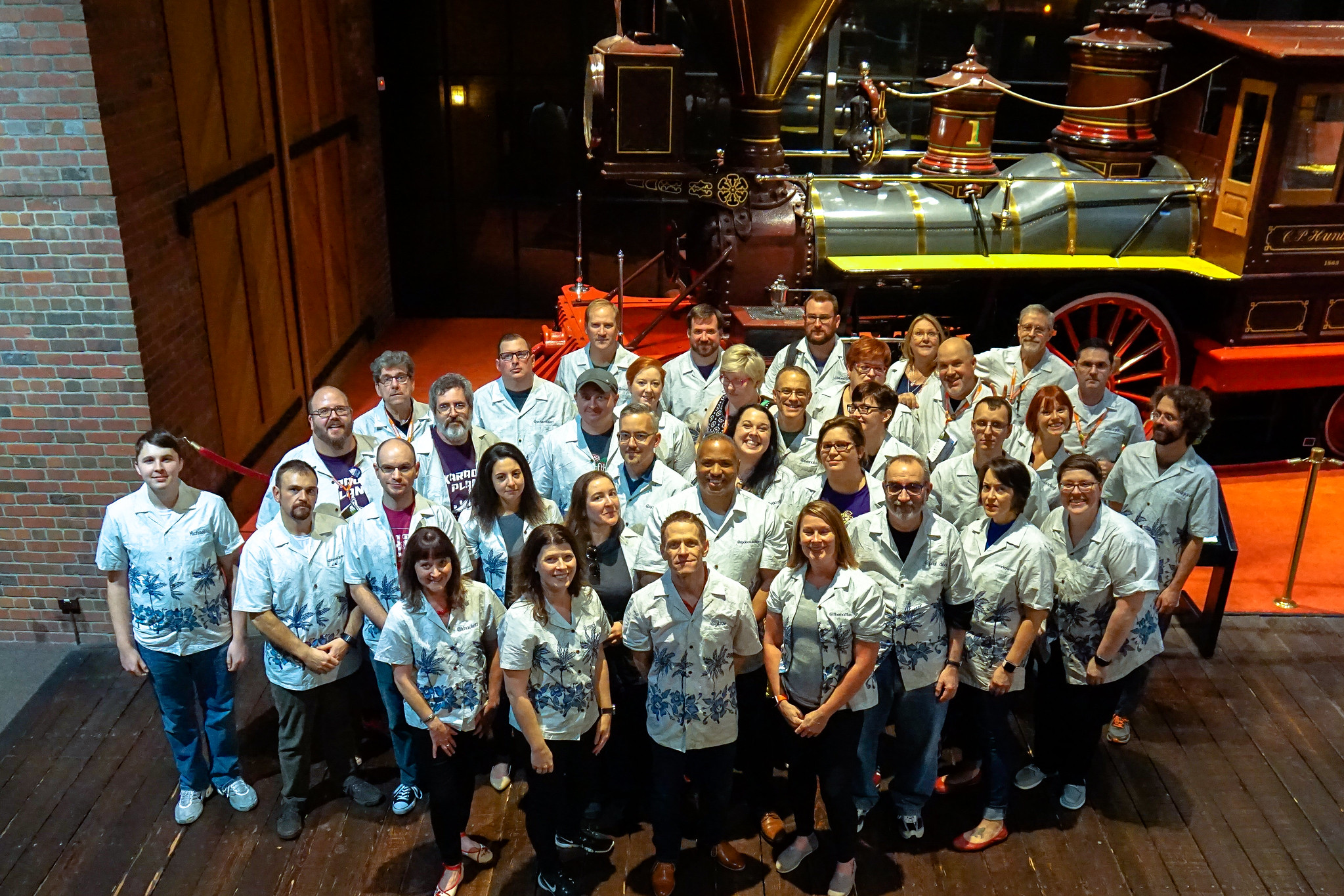 New Initiatives for 2018
Institutional Memberships
HighEdWeb added an institutional membership class in early 2019. When a college or university becomes an institutional member, all employees and students receive member benefits.
Slack
Before the 2018 Annual Conference, HighEdWeb added a Slack Workspace as a benefit for members. In this messaging app, members can discuss, share files and work together.
Hiring of Operations Director
The board hired Sara Clark as the operations director in May 2018. As the association's only employee, Clark coordinates the day-to-day operations of the association and its volunteers. 
Goals and Strategic Plan
The HighEdWeb 2018-20 Strategic Plan includes these goals:
Implement a robust growth plan for the Association
Develop a diversity and inclusion plan
Run an effective volunteer program that supports the Association, volunteers, and members
Develop a membership advancement plan
Establish and promote HighEdWeb members as experts that support and benefit higher education
Financials
The Annual Conference is the Association's largest activity, and it generated nearly $51,000 in net income. This is how money was spent during the 2018 Annual Conference to support our educational mission:
Committee Accomplishments
2018 Annual Conference Committee
The committee organized a successful conference in Sacramento, California: 649 attendees; dozens of sessions, workshops, and academies; two keynote presentations, and network events.
Link
In addition to providing comprehensive coverage of the conference,  Link expanded its roster of writers and editors and partnered with the board to deliver more news about the Association.
Regionals Committee
The regionals committee is reviewing regional events and exploring opportunities for HighEdWeb members to connect in new ways.
Safety and Inclusion Committee
The safety and inclusion committee drafted an inclusion statement for the revised code of conduct. The committee also created a guide to help support the board and conference committee choose host cities that are safe for all conference attendees.
Sponsorship Committee
The sponsorship committee solicited 30 sponsors for HighEdWeb 2018 in Sacramento.
Technical Committee
The technical committee supported the installation, configuration, and maintenance of the Association's several WordPress properties and provided support for the move of the Association's CiviCRM installation.
Volunteer Committee
The volunteer committee has a new profile form, new processes for matching members to opportunities, and open volunteer positions are posted on the HighEdWeb Job Board.
New Directors
The Board of Directors includes 12 members that represent several different higher education institutions. Three new directors were elected in 2018.
Lisa Catto
Lisa Catto has managed Western Oregon University's social media and media relations since 2005. She developed the university's social presence back when MySpace was still the new kid on the block and has grown it into a robust program supported by a student social media team. She provides campus training on social media best practices, leads the university's social media strategy, and serves on various committees, including the Emergency Planning Team. She has a BS in public relations from the University of Oregon, a BS in anthropology from Western Oregon University, and is completing a Master's in archaeology from Portland State University.
Lisa has presented at multiple national and regional HighEdWeb conferences. She serves on the Association's Annual Conference Program Subcommittee as the Poster Track Chair and on the Membership Committee.
Aaron Knight
Aaron Knight has been with the SUNY College of Environmental Science and Forestry (SUNY-ESF) since 2008 and is currently a senior programmer/analyst for information systems for the college. Aaron is responsible for internal web portals, course registration, grading and institutional reporting — basically, if it's not a server and you wouldn't notice him until it's suddenly not working and is required for the college to function, he's probably responsible for it. Aaron holds degrees in computer science and history (BS) and computer engineering (MS) from Syracuse University.
Aaron is a frequent presenter at the HighEdWeb Annual Conference, and previously served as a standing member of the HighEdWeb Membership Committee.
Jeff Stevens
Jeff Stevens has been at the University of Florida since 2001, working on websites for Student Financial Affairs, the College of Liberal Arts and Sciences, and UF Health, the university's academic health center. In his current role, Jeff and his team are responsible for the content strategy for ufhealth.org, representing six teaching colleges and over 150 primary and secondary care facilities; as well as consulting and teaching over 1500 content editors using their centralized systems. Jeff has a BS in history and mass communications from Florida State University and an MA from the University of Florida.
Jeff is a frequent presenter at the HighEdWeb Annual Conference, and was the Committee Chair for the Florida Regional Conference in 2013. Jeff also serves on the Annual Conference Program Subcommittee as a graphic designer and as a track chair, and as a staff member of Link, the Journal of Higher Education Web Professionals.
Sponsors
HighEdWeb truly appreciates the support of our sponsors and partners. Because of their support, conference registration costs were kept low while allowing exceptional special events and keynotes. These organizations provided support for our 2018 events and activities.
Creative and Technical Partner
Platinum Level
Gold level
Silver Level
Bronze Level
Partner
Special Thanks
HighEdWeb is a volunteer-driven organization. We couldn't succeed without the support of our volunteers. Following are those that gave their time and talent to the association in 2018. Thank you.
Aaron Knight
SUNY College of Environmental Science and Forestry
Aaron Rester
Roosevelt University
Adam Gould
Jamestown Community College
Adam Murtland
Cornell University
Adam Staffa
Shoreline Community College
Alaina Wiens
Flint & Genesee Chamber of Commerce
Alan Etkin
British Columbia Institute of Technology
Alex Chapin
University of North Carolina at Charlotte
Alex Chichester
Daemen College
Amanda Frisbee
Wisconsin School for the Deaf
Amberly Nowak
University of Saint Francis
Amit Chourasia
University of California-San Diego
Amy Davis
University of California-Davis
Amy Grace Wells
UX Booth
Andrea Mostyn
Missouri State University
Andrea Tripp
University of Southern Maine
Andrew Cassel
University of Alaska Fairbanks
Andrew Shooner
University of Kentucky
Andy Shearouse
Augustana College
Anne Petersen
18F
Ashley Budd
Cornell University
Becca Rodgers
Pennsylvania State University
Ben Rapin
Grand Valley State University
Beth Miller
Campus Sonar
Blaine Herman
DubBot
Bonnie Willison
Beloit College
Brendan Foley
Morehead-Cain Foundation
C. Daniel Chase
SUNY Empire State College
C. David Lafferty
Nazareth College
Carolyn Zinn
Kalamazoo College
Casey Wright
Purdue University
Catherine Scholz
Milwaukee School of Engineering
Cheryl McKay
Missouri University of Science and Technology
Chris D'Orso
The College at Brockport
Chris Seek
University of Colorado
Christina McNeil
Northeastern University
Christy Cousino
Montana State University
Christy Glaze
The University of Texas at Dallas
Colleen Brennan-Barry
New York Chiropractic College
Conny Liegl
California Polytechnic State University
Craig Campbell
University of Hartford
Cristin Kastner Farney
Rowan University
Curtiss Grymala
University of Mary Washington
Damien Bilka
Pennsylvania State University
Dan Demmons
Providence College
Dave Tyler
Rochester Institute of Technology
David Cameron
Ithaca College
David DeMello
Cornell University
David Morton
OmniUpdate
David Olsen
West Virginia University
David Rosen
University of Minnesota
Deb Peluso
Converse College
Debbie Richard
Trine University
Debra Goldentyer
University of California-Berkeley
Donald St. Martin
Texas A&M University
Donna Talarico
Stories & Such
Douglas Tschopp
Augustana College
Emily Mayock
Case Western Reserve University
Eric Li
Wharton County Junior College
Eric Sembrat
Georgia Institute of Technology
Erik Runyon
University of Notre Dame
Erika Boltz
UF Health
Erin Supinka
Dartmouth College
Faisal Nawaz
Augustana College
Garrett Bingaman
Purdue University
Gavin Brown
Purdue University
George Sackett
St. Louis Community College
Georgy Cohen
OHO Interactive
Glenn Donaldson
The Ohio State University
Greg Marshall
Alley
Jackie Vetrano
University of North Carolina at Chapel Hill
Janice Cheng
Wells College
Jared Meyer
Expedia Group
Jason Buzzell
University of Nebraska at Omaha
Jason Dufair
Purdue University
Jason Kammerdiener
Colgate University
Jason Pontius
LiveWhale
Jason Proctor
Mount Holyoke College
Jason Woodward
Bravery Media
Jean-Paul Rains
Laurentian University
Jeff Stevens
UF Health
Jeffrey Fabiny
Nazareth College
Jennifer Brisco
Purdue University
Jennifer Canup
UTHealth
Jennifer Green
Rowan University
Jennifer Stroth
Stanford University
Jenny Slaughter
NewCity
Jesse Lavery
Allegheny College
Jill Simpson-Owens
New York University
Jim Kittle
The Ohio State University
Joan De Maria
Chapter Three
Jody Benedict
Saint John Fisher College
Joel Goodman
Bravery Media
Joel Vertin
Michigan Technological University
John Wagner
Princeton University
John Wiglesworth
University of Guam
Jon McBride
Brigham Young University
Jonas Macapinlac
University of Guam
Josh Koenig
Pantheon
Judith Gunter
Creighton University
Justin Gatewood
Victor Valley College
Justin Romack
Texas A&M University
Kara Sassone
OHO Interactive
Karen Hackett
Pennsylvania State University
Karlyn Borysenko
Zen Workplace
Kat Liendgens
Hannon Hill
Kendra Saldana
Cornell University
Kerri Hicks
Brown University
Kevin Webb
Vanderbilt University
Kris Hardy
Messiah College
Kyle Wohlenhaus
Altus Alliance
Lacy Paschal
Vanderbilt University
Lad Hirschfeld
UTHealth
Lallo Vigil
University of the Incarnate Word
Larry Falck
Francis Marion University
Lawrence Durtschi
Snow College
Les Matthews
UTHealth
Leslie DuPree
Augustana College
Levi McGranahan
Indiana University
Lisa Catto
Western Oregon University
Lisa Nguyen
University of California-Davis
Liz Gross
Campus Sonar
Lori Packer
University of Rochester
Lougan Bishop
Belmont University
Maren Walz
University of Wisconsin-La Crosse
Maritza Maurer
Arizona State University
Mark Anbinder
Cornell University
Mark Whittaker
Southern Utah University
Martin Sickafoose
Purdue University Alumni Association
Matt Cyr
Primacy
Matt Duncan
University of Colorado Boulder
Matt Herzberger
Ruffalo Noel Levitz
Matt Ryan
Carleton College
Max Bronsema
Western Washington University
Medbh English
University of Saskatchewan
Megan MacQuarrie
Mount Holyoke College
Melissa Breker
Breker Group
Melissa Dix
Beloit College
Melissa Mae Cheater
Western University
Melissa Van De Werfhorst
University of California-Santa Barbara
Michael Kasiborski
University of Michigan
Michael Wardach
Augustana College
Michelle Tarby
Le Moyne College
Mike Henderson
Adams State University
Mitch Canter
Vanderbilt University
Natalie Brown
NewCity
Nick Jensen
New York University
Nikki Massaro Kauffman
Pennsylvania State University
Owen Fuller
Lucidpress
Pat Brown
Purdue University Alumni Association
Patricia Bradley
University of Michigan
Paul Gilzow
University of Missouri-Columbia
Penny Kronz
DubBot
Piero Tintori
TERMINALFOUR
Rachel Cherry
WPCampus
Rachell Underhill
University of North Carolina at Chapel Hill
Ramona Fritschi
Messiah College
Rene Sackett
Richard Prowse
University of Bath
Robert Heyser
Tarrant County College
Robert Mills
GatherContent
Robin Smail
Pennsylvania State University
Ron Agrella
University of Massachusetts
Sarah Ferguson
Brandeis University
Sarah Maxell Crosby
Dartmouth College
Sarah Ryder
Scott Olivieri
Boston College
Sean Flynn
College of William and Mary
Seth Meranda
Concordia University, Nebraska
Shelley Keith
Modern Tribe, Inc.
Stephanie Geyer
Ruffalo Noel Levitz
Stephanie Martinek
Duke University
Stephen Fornal
Tarrant County College
Sven Aas
Mount Holyoke College
Terezita Overduin
California State University-Bakersfield
Tim Nekritz
SUNY College at Oswego
Tom Soto
Louisiana Tech University
Tom Wojciechowski
Daemen College
Tony Dunn
California State University-Chico
Tonya Oaks Smith
Louisiana Tech University
Tracy Playle
Pickle Jar Communications
Veronica Adinegara
Missouri State University
Virgil Carroll
High Monkey
Waylon Baumgardner
California Baptist University
Weesen Goh
Singapore Management University