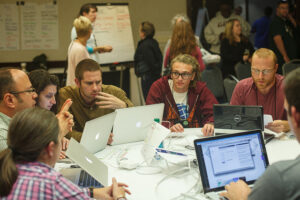 What can programmers, writers, designers and project managers create in one night? A revamped user experience and revised content strategy for The Coalition for a Livable Future's Regional Equity Atlas, of course!
What is a hackathon?
The concept of a hackathon is simple (though the work is far from it) – web professionals engage in collaborative web programming and design to enhance an organization's online presence in a short amount of time. See how our 2013 hackathon helped The Ride for Roswell in Buffalo, New York.
A HighEdWeb hackathon unites web professionals from hundreds of colleges and universities with diverse skill sets (including programming, writing, graphic design, project management and more). This year, the HighEdWeb hackathon will focus on supporting the Coalition for a Livable Future (CLF), a nonprofit based in Portland, Oregon, and renovating its Regional Equity Atlas project.
The details
6 p.m.-3 a.m. Monday, October 20 at the Hilton Portland and Executive Tower Hotel
Revamp the UX of their Regional Equity Atlas for a more non-technical audience
Provide technical recommendations, especially of open source solutions
Revise their digital strategy/information architecture/content strategy to streamline the path to the Atlas via the CLF website
Questions about the Hackathon? Contact the Hackathon coordinator, Anne Petersen.
​What is the Regional Equity Atlas?
The Coalition for a Livable Future's (CLF) Regional Equity Atlas is a tool that enables the group to understand how well different neighborhoods and populations are able to access the resources and opportunities necessary for meeting their basic needs and advancing their health and well-being. By illuminating the Portland metro region's geography of opportunity, the Equity Atlas has transformed conversations around equity and provided concrete information to guide local advocacy and policy making to address disparities.
The original Equity Atlas was released in 2007 as a book of static maps and text. CLF released an updated version of the Regional Equity Atlas (Equity Atlas 2.0) in June 2013 that includes an online mapping tool that gives users the ability to create their own maps and an interpretive website that provides a gallery of static maps and analysis. The website also includes metadata, user guides and tutorials, and a host of complementary features including a storytelling project and white paper series.
How can sponsors help?
We can't pull off this ambitious hackathon without you! And, there are many ways for you to put your web powers to work.
Partner with HighEdWeb attendees to harness the power of the web for the good of the community by providing:
Food
Assistance with coding, content, design and more
Oversight of the project
Prizes
Interested in sponsoring the Hackathon? Contact the HighEdWeb sponsorship committee.