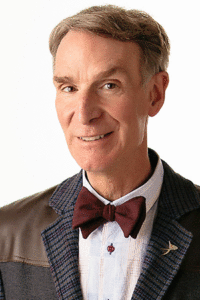 HighEdWeb 2015 Annual Conference's opening keynote speaker has spent nearly a lifetime making science and technology entertaining and accessible. Combining his talents as a scientist, inventor, comedian and author, he has attracted adults and children to the wonders of scientific world. That's right, it's the one-and-only Bill Nye (@BillNye)! The Science Guy will speak to us Monday, Oct. 5 about science, the universe and everything in between.
Nye's wit and enthusiasm have helped to garner 18 Emmy awards for his PBS/syndicated series "Disney Presents Bill Nye the Science Guy." Nye is also the host of "Stuff Happens," a show examining the everyday stuff of our lives, and the far-reaching effects our actions have on the planet.
An accomplished author, Nye has written five books including, "Bill Nye the Science Guy's Big Blast of Science," "Bill Nye the Science Guy's Please Consider the Following–A Way Cool Set of Science Questions," "Answers and Ideas to Ponder", and his most recent book, "Bill Nye the Science Guy Considers the Big Blue Ocean."
Nye received a mechanical engineering degree from Cornell University, where he studied under Carl Sagan. He joined Boeing Commercial Airline Company in Seattle, where he worked on flight control systems until his love of entertainment led to work as a stand-up comic and his eventual creation of the persona of the Science Guy.
Learn more about Bill Nye (and how you can see him at HighEdWeb 2015): http://2015.highedweb.org/nye/