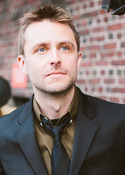 HighEdWeb 2014 is pleased to announce that Chris Hardwick, CEO of Nerdist Industries – also known in certain (very social, very popular) circles as The Nerdist – will deliver the Annual Conference's closing keynote address on Wednesday, October 22.
Save $125 by registering by July 31!
Points about @Nerdist
Chris Hardwick is a chart-topping podcaster, television personality, stand-up comedian contributor for Wired magazine and creative head/CEO of the multi-platform media behemoth known as Nerdist Industries.
Nerdist channels include:
He shares his humorous take on social media, technology and all things nerdy as the host of Comedy Central's "@Midnight" and AMC's "The Talking Dead," and will bring that perspective to the HighEdWeb stage in October.
About HighEdWeb
HighEdWeb is the annual conference of the Higher Education Web Professionals Association, created by and for all higher education Web professionals—from programmers to marketers to designers to all team members in-between—who want to explore the unique Web issues facing colleges and universities.
P.S. HighEdWeb is the conference created by and for YOU, so come be a volunteer at HighEdWeb 2014 and help us make #heweb14 magic happen! Want to learn more and tell us how you can help out in Portland? Read on.