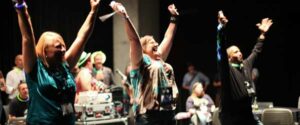 The moment you've been waiting for has arrived: the HighEdWeb 2014 Annual Conference track presentation schedule* is live! This year brings a stellar lineup of topics and speakers, with 70+ presentations aimed at programmers, strategists, developers, designers, managers, marketers and everyone in between!
Head on over to the conference website to review the schedule, complete your registration and begin the "rock-paper-scissors-lizard-Spock" process of deciding which track sessions you'll attend!
* Information about our lineup of poster presentations will be coming soon! Stay tuned.
Enhance your experience with a HighEdWeb workshop
Registration is also open for our array of half-day pre- and post-conference workshops, offered at $120 for one or $180 for two. Workshop topics range from video production to accessibility to responsive web design.
View the full list of workshops and add one (or a few!) to your registration today!
Add an Academy
Go in-depth and take part in one of our professional Academies, held on October 18-19 in conjunction with our 2014 Annual Conference in Portland. These two-day intensive professional development opportunities are offered in three topic areas: Integrated Marketing, Leadership and Technical. Register today.
Register, register, register!
We recommend registering early for HighEdWeb 2014, as spots fill up quickly. Plus, register by July 31 and you receive the #heweb14 early-bird discount — a savings of $125!
And don't forget, in addition to all of the top-notch presentations and programming, your registration includes three great #highedweb14 special events:
A Welcome Reception Oct. 19 at Punch Bowl Social
HighEdWeb AfterDark Oct. 20 at Porto Terra
HighEdWeb Big Social Event Oct. 21 at the World Forestry Center
Be a volunteer
Do you like to work behind the scenes? HighEdWeb runs on volunteers, and we are looking for awesome people to help at this year's conference. From registration to our #heweb14 special events, we need you! Contact George Sacket if you are interested.