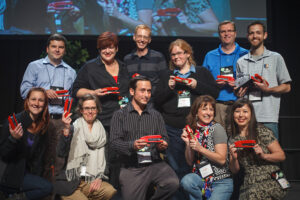 HighEdWeb needs your help to make 2014 our best conference yet: our 2014 call for presentation proposals is now open!
Share your insight at HighEdWeb 2014
We are now accepting proposals for both 45-minute conference presentations and poster session participation. All proposals should be submitted online by April 4.
HighEdWeb is nationally recognized as an outstanding conference due in large part to the great, innovative presentations it offers – presentations given by you and other outstanding higher education Web professionals. We encourage presentations covering a wide range of topics related to the Web and higher education:
Accessibility
Apps
Coding
Content strategy
Mobile
Marketing
Online education
Professional development
Programming
Social media strategy
Technology in education
Usability
Web design
View the HighEdWeb 2013 schedule for presentation examples. All HighEdWeb presenters gain recognition, build their CV/resume and earn a $100 discount off conference registration.

Make plans to attend HighEdWeb 2014 Oct. 19-22
Mark your calendars and plan to join us in Portland, OR, Oct. 19-22 for HighEdWeb 2014, the conference designed by and for all higher education Web professionals – from programmers to marketers to designers to all team members in between – who want to explore the unique Web issues facing colleges and universities.
Conference registration opens in early April; be sure to take advantage of the special early-bird discounted registration prices, good until July 31. And pro tip: it's never too early to book your room at our host hotel, the Hilton Portland and Executive Tower!
Go in-depth at our 2014 Academies
Kick-start your HighEdWeb 2014 experience with a pre-conference Academy. Joining our popular Leadership Academy are two new options for 2014: an Integrated Marketing Academy and a Technical Academy. Stay tuned for more details on these three great professional development offerings; registration opens in April!
Can't wait for October?
Check out our upcoming Regional Conferences in Pittsburgh, Rhode Island, Michigan and South Carolina for some additional professional development right in your area!