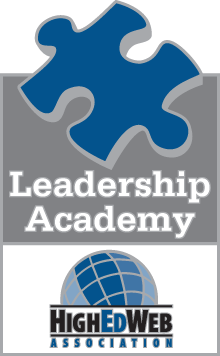 HighEdWeb is pleased to announce that registration for the second HighEdWeb Leadership Academy is now open. Designed to broaden perspectives and advance the leadership abilities of Web professionals working in higher education, this intense program offers interactive learning experiences in a small group setting.
Why attend?
What differentiates this Leadership Academy from other organizations with leadership programs is a specific focus on the job of a Web director/manager. Participants in this academy will learn:
The skill set needed to be effective in a broader role within the Web field
How to differentiate leading from managing from actually doing the work, so that you can be more intentional in the behavior you select
The Web governance framework, from a comprehensive Web strategy to development of policies, standards and an effective evaluation process
Different Web team options, including how to work in a matrix environment and affect change
The business of higher education
When is the academy?
The academy is being held in conjunction with the annual 2013 HighEdWeb Conference in Buffalo, New York. The Leadership Academy includes two sessions before the conference:
Saturday Oct. 5, 2013, 1-4:30 p.m. and 6-8:30 p.m.
Sunday, Oct. 6, 2013, 8 a.m.-4:30 p.m.
How do I register?
Academy registration is handled separately from conference registration. The cost is $400 and includes dinner on Saturday, Oct. 5, and breakfast and lunch on Sunday, Oct. 6. Space is limited to 32.
What do past attendees have to say about the academy?
"There was a good mix of leading/managing a team and working with other leaders at the university."
"Overall fantastic and something that needs to be addressed and talked about."
"Loved the chance to network with peers and discuss things in depth. All in all, made me think about things that I otherwise would not have thought about."
"Wonderful session. I like the focus on both us as individuals and our functions and responsibilities."
Questions?
Contact us: leadership@highedweb.org.