HighEdWeb 2013 is excited to announce a new conference feature this year: a Closing Keynote!
That's right, #heweb13 has TWO keynotes: one to be held early on in the conference, and one to send us off with final words of inspiration as we wrap up a great conference experience the morning of Weds. Oct. 9. And we're thrilled to announce that our 2013 Closing Keynote speaker is none other than author, speaker, and preacher of engagement Scott Stratten — @UnMarketing himself! Join us in welcoming Scott as we keep moving down the road to Buffalo and HighEdWeb 2013.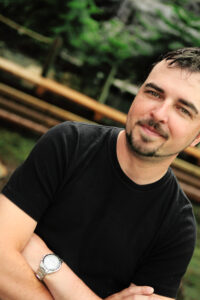 Scott Stratten, President of Un-Marketing
Formerly a music industry marketer, national sales training manager and a College Professor, he ran his "UnAgency" for a nearly a decade before solely focusing on speaking at events for companies like PepsiCo, Adobe, Red Cross, Hard Rock Café, Cirque du Soleil, Saks Fifth Avenue and Fidelity Investments when they need help guiding their way through the viral/social media and relationship marketing landscape.
He now has over 140,000 people follow his daily rantings on Twitter and was just named one of the top 5 social media influencers in the world on Forbes.com. It's the only time he's felt comfortable being compared to Ashton Kutcher, P Diddy and Justin Bieber.
His book "UnMarketing: Stop Marketing. Start Engaging" became a national best-seller before it was released and was also named one of the top business books of the year by 1-800-CEO READ and a top 10 book by Under30CEO.com.
His new book entitled "The Book Of Business Awesome: How Engaging Your Customers and Employees Can Make Your Business Thrive" is also a best-seller, breaking the rules of how companies are truly marketed and grown through the current online/offline world.
His passion comes out most when speaking on stage, preaching engagement and becoming one of the most sought-out speakers on the subject.