Believe it or not, October is quickly approaching and this year's amazing group of volunteers are hard at work preparing for the greatest HighEdWeb ever, HighEdWeb 2012! Sure, I may be a bit biased as this year's Conference Chair, but we have a number of exciting things in store for you this year:
World class presentations and workshops, befitting a conference that's by higher education Web pros, for higher education Web pros.
New session tracks. You'll hear more on this in a future blog post from our Program Committee chair, Doug Tschopp, but we've taken a careful look at how our tracks are organized and made some changes to reflect how various technologies are being used in higher education. Our sessions will reflect what you need in your professional development experience.
Larger conference facilities. This year our sessions and workshops will be held in Milwaukee's Frontier Airlines Center, allowing us plenty of space to grow. Track rooms will be configured to allow for both classroom and theater style seating, giving you the option to sit at a table or in the more traditional style of conference seating. The convention center is connected via skywalk to our host hotel, The Milwaukee Hilton City Center.
A new Leadership Academy will be held in conjunction with the conference this year. Building on the success of last year's workshop session on leadership, the new Leadership Academy will be a day and a half session featuring some of the brightest leaders in higher ed and beyond. With only 25 spaces, this is sure to sell out so be sure to book soon if you're interested.
Wi-Fi with plenty of bandwidth. The Frontier Airlines Center recently underwent a multi-million dollar network upgrade to enhance its wireless capabilities. Attendees will have no problem connecting to the massive 100 Mbps pipe. Stream away, friends!
Numerous networking opportunities. From the welcome reception at SPiN Milwaukee and Tuesday night out excursion to the Discovery Center,  to the new "birds of a feather" networking sessions at lunch,  you'll have many chances to interact with your colleagues and share ideas — some of the very best parts of any HighEdWeb.
On b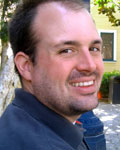 ehalf of all of my friends working hard to bring you an amazing conference this year, I look forward to seeing you in Milwaukee this October 7-10. Until then, keep an eye out for some exciting announcements coming soon regarding our keynote speaker and more.
Yours,
Michael Hostad
2012 Conference Chair