Welcome to our weekly feature, "Worth 1000 Words," where  you can catch a glimpse of the wonder that is HighEdWeb.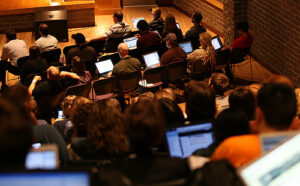 We're Web pros, and no matter in what part of the profession we work — from marketing to programming and everything in-between — we live and breathe technology, requiring that we be connected wherever we go.  This is never more apparent than at HighEdWeb, where you can always find a sea of the latest laptops, PDAs and cool devices galore.  With this in mind, we're commmitted to providing a strong infrastructure at the conference venue: Hilton bandwidth will be increased from 10 Mbps to 100 Mbps just for #heweb09, ensuring that when you come to HighEdWeb 2009: Open. Connected., connections of ALL sorts are guaranteed.
So grab your portable electronic device of choice and register today to join us October 4-7 in Milwaukee, WI, for HighEdWeb 2009: Open. Connected.